Many sizes are available based on amount of hardness, flow rates, amount of fixtures & residents.
Testing is available for proper sizing of equipment. We DO NOT HAVE A ONE SIZE FITS ALL!!!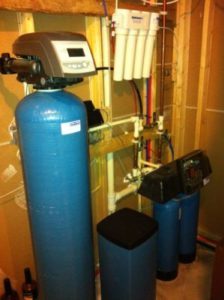 Hydrotech
Hydrotech HTO Upflow Series Whole House Water Refining System: a two tank carbon system keeps media beds separate, allowing for more carbon contact for improved chlorine, chloramines and organic removal.
Hydrotech 89 Series Water Softener: a water softener that removes calcium & magnesium to soften the water. This leads to using up to 75% less soap, lowering water heating, and making your hair and skin feel softer and supple.
Canature 85 TA 1" Series Commercial Water Softener: a commercial grade water softener designed to be trouble free in its performance with minimal maintenance.